It's fucking hot as balls outside. Sweat pours from every pore. The scent of hard work and filth emanates from my flesh, despite only just arriving at the exterior ingress point of our HQ's needy filtration system. I can feel the scalding metal of the grate threatening to blister my fingers before I even touch it. Fuck this, I'm getting Ferrous Beuller to deal with this shit. He's got big ol' iron mitts for hands, so this won't even phase him, just as long as I can get his lazy tookus moving long enough to bring him here…
[7 MONTHS LATER]
Well, it's finally done. The vent is open at last, and now I can clean this fucker out so that I can feed the commentariat greasy chunks of who-knows-what. I hope they appreciate how much trouble the team—meaning me, of course—went through for this!
---
TheKenWord's Crusty Concoctions
Triumvir Foul – Onslaught to Seraphim
Some of us may or may not have very different opinions on the virtues of a good metal band logo, and those same people will undoubtedly assert their various degrees as evidence to their opinions' superiority. Fuck them. My assertion is and will always be that good band logos have personality, and bad ones don't. Triumvir Foul's logo is a fucking good death metal logo. Look at it. Unreadable, sure, but it's so sassy! Complementing the hooky branding is some equally hooky and fucking nasty blackened death on Triumvir Foul's third release, Onslaught to Seraphim. "Flesh Diocese," "Bašmu Enthralled, Horned Creations," "Slither of Corruption (The Demise of the Three Serpents)," and "Infected Virtue" are all big chonkers, oozing filthy riffage, groovy rhythms, and gurgling gutturals and rasps. Fans of Infernal Coil and Tomb Mold shall dig what Triumvir Foul have to offer here, and as an album, it appears the Portland, Oregon-based duo are on an upswing in overall album quality from past work. If they continue this upward trajectory, Triumvir Foul might just become one of my new favorite blackened death acts. 
Saunder's Slimy Snippets
Memory Driven – The Morrow Mourning
After being dormant for the best part of a decade, underrated American doomsters Memory Driven have been prolific since re-emerging in 2020, compiling a stack of material, including a handful of original and covers albums. Mastermind and doom stalwart Dennis Cornelius (Revelation, Place of Skulls, Oversoul and many more) and his loyal bandmates continue trudging a path of grooving, melancholic and dynamic doom, featuring strong progressive overtones. While 2011's masterful Animus album remains their career high point, The Morrow Mourning is certainly some of their strongest and most focused material since. A heaving platter, The Morrow Mourning is defined by thick, rumbling riffs, grungy undertones, Cornelius' trademark warbly vocal delivery, and elephantine grooves, powerfully combining on early album highlight "Hell Yonder." Memory Driven play the slow, heavy game well, however, it's their willingness to crank up the pace and fuck with doom conventions that sets them apart. The aggressive, speedier punch of "Duster," experimental approach and garbled vox of "Dropsie," and hard-edged, yet melodious journey of closer "Meiosis" offer diverse examples of Memory Driven's doomy delights.
Xaon – The Lethean
Symphonic metal is often a mixed bag for me. The balance between genuine heft, orchestral beauty, bombast and aggression needs to be just right, as symphonic cheese must be kept to a sensible amount, due to its tendency to clog the arteries at a rapid rate. I stumbled upon the third album from French/Swiss band Xaon, entitled The Lethean, and left impressed by their ambition and solid writing skills. The Lethean is a loaded beast of symphonic and melodic death, featuring epically composed material, including soaring cleans, blistering aggressive turns, and tons of orchestral bombast. However, it's deftly composed, interesting stuff that may just appeal to folks that get a kick out of bands like Zornheym, Disillusion and Xanthochroid. The frantic, exhilarating throes of "The Hunt," crunchy, compact nugget "Wanton," gloriously epic and memorable "Wayward Sun," and over-the-top, majestic guilty pleasure "If I Had Wings" are a selection of fine examples for those inclined. It doesn't always work, the album is in need of tighter editing and dairy reduction, however, The Lethean is a deceptively addicting listen.
Brain Famine – Die in the Vortex
Die in the Vortex is a cool, nasty little album from unsigned Massachusetts act Brain Famine. At a lean 23 minutes and being a grind-affiliated release, it walks the line between EP and LP formats. Either way, it's a swift, teeth-kicker to pass the time. Brain Famine jam the aggression into overdrive across Die in the Vortex's frantic runtime, adroitly genre-smashing into one tautly wound, volatile cocktail of extremity. Grindy, deathy, thrashy and mathy, Die in the Vortex covers ample territory with its no-holds-barred, uncompromising approach, solid riffs and energized high-speed assaults and rhythmic battery that maintains interest and gets the blood pumping. The hepped-up riffs, occasional solo ripping through the chaos, and about-to-careen-off-the-edge vibe lends tension and urgency to these rabid, high-intensity tunes. There is certainly room for improvement, and the vocals good use a bit of variation, however, Brain Famine display promise.
Carcharodon's Morose Morsels
Hulder – The Eternal Fanfare
One-woman black metal project Hulder made a promising start with last year's debut LP Godslastering: Hymns of a Forlorn Peasantry. A blend of old school black metal with folky overtones and something that hinted at more grandiose tendencies, I was intrigued to see where the Washington, US outfit would go next. On The Eternal Fanfare, which is described as a 'mini LP' ahead of the next full-length, Hulder begins to deliver on that promise. Majestic synths and choral clean vocals capture something that could easily be termed The Eternal Fanfare on opener "Curse From Beyond," before a harsh, Paysage d'Hiver-esque onslaught begins "Burden of Flesh and Bone." The combination of gossamer delicate, almost orchestral, passages and rampaging, raucous black metal—sometimes alternating, sometimes interwoven—forms the backbone of The Eternal Fanfare. Hints of Myrkur and Eneferens sit alongside more traditional atmospheric black metal on "The Sylvan Awakening" and the record as a whole is only really held back by some shoddy production on the drums, which gives the whole an echoing dimension that distracts somewhat from an otherwise great record.
Nostalghia – Au milieu de l'hiver
People can be a bit sneery about black metal aesthetics but every now and again, you encounter an artist who just gets the aesthetic and knows how to use it. Alex Becerra, aka Nostalghia, is such an artist and 'artist' is the correct term for this Mexican. Au milieu de l'hiver is Nostalghia's fifth full-length in two years(!) and, I confess, my first encounter with the project. Dreamy and ethereal post-atmospheric black metal, that stark, hopeless cover art (Homeless (1890) by Thomas Benjamin Kennington) tells you everything you need to know about Au milieu de l'hiver. From delicate keys to fragile strings, rampaging tremolos to the sax solo contributed to opener "Elegy" by Valeria Dávila, the whole combines to create a tale of forlorn and hopeless isolation. Becerra's searing rasps give the parable a harsh, crushed glass edge that rips the listener out of the dreamy reverie into which some of the calmer post-metal builds can drop you (opening to monumental closer "Scent of Sleep and Tears"). Comprising just four tracks, but each clocking in well past the ten-minute mark, Nostalghia's latest effort is epic in every sense and I am borne away on melancholic tides on each and every spin. Vinyl has been ordered and, ironically, just as I write this I have received a message on Bandcamp that Nostalghia's next full length is due in October. So if Au milieu de l'hiver is your bag of hopeless misery too, you won't have long to wait for the next teary installment.
Maddog's Demonic Discoveries
Critical Defiance – No Life Forms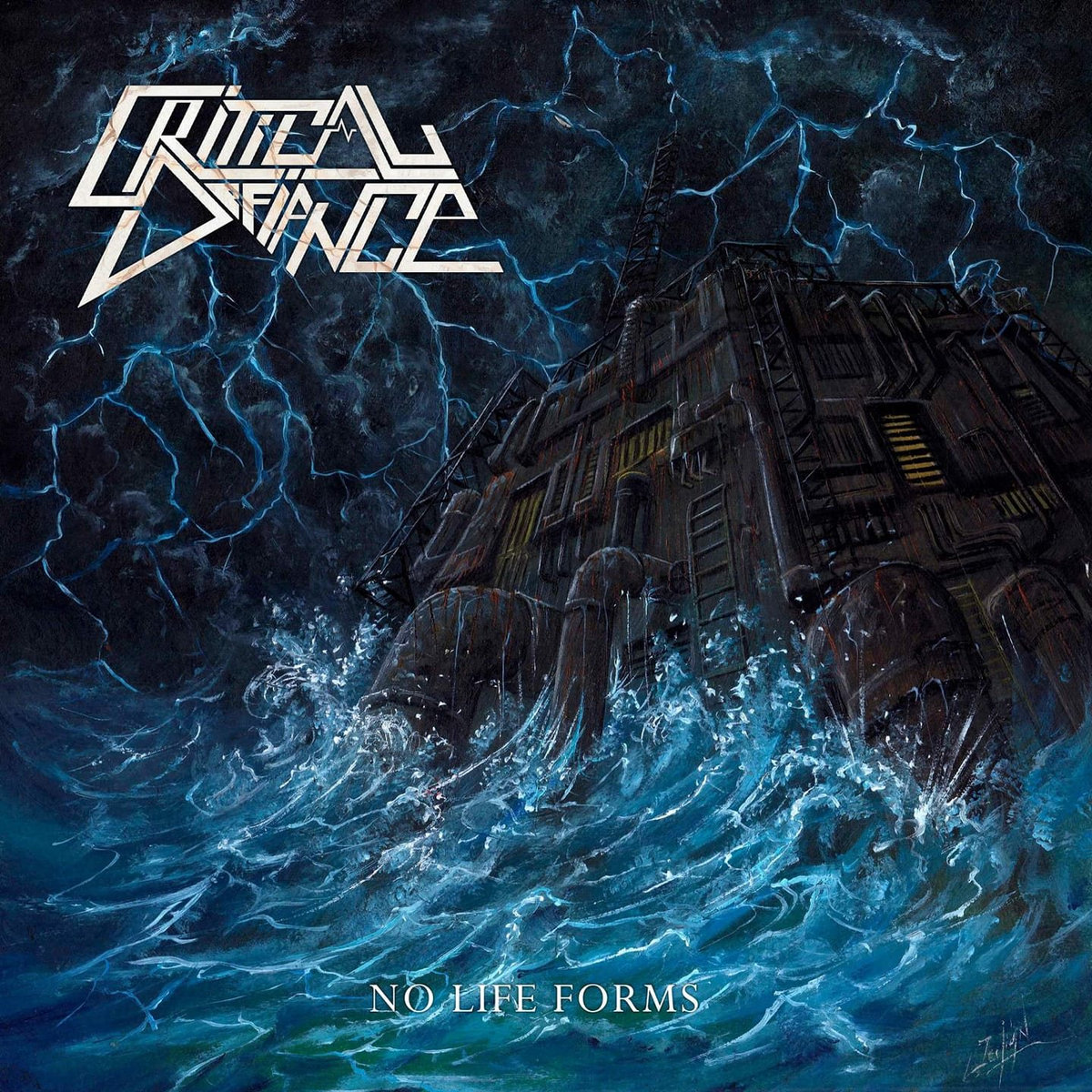 If you're grinning after the first ten seconds of No Life Forms, you'll love the rest. South American thrash has put the rest of the world to shame for decades through sheer intensity, and Chile's Critical Defiance is no exception. The band's debut earned praise from a nameless n00b (who promptly disappeared, but it's probably fine). Its follow-up No Life Forms ratchets up the aggression even more, with punchier songs (shaving off ten minutes while fitting in two more songs) and less melodic riffs. The closest analog is Morbid Saint's classic Spectrum of Death, due to Critical Defiance's penchant for hurtling through technical thrash riffs at a frenzied pace. Indeed, highlights like "The Last Crusaders" and "Dying Breath" dazzle by cramming so much thrashy goodness into so little time, battering you with infectious riffs, powerful driving bass lines, and soaring solos. Parts of No Life Forms bleed together, and the middle of the album tends to lose my interest after a fantastic start. But closer "No Life Forms" earns it back with flying colors. When the album ends, you'll be screaming "NO LIFE FORMS" and spinning it again from the top.
Crestfallen Dusk – Crestfallen Dusk
The experimental fringes of metal often go over my head. My canine brain struggles to comprehend what's going on, let alone appreciate the full extent of creativity. Crestfallen Dusk's debut is a surprising exception. Crestfallen Dusk plays dissonant black metal heavily influenced by Hill Country blues, which I've learned is a hypnotic, rhythmic form of blues from mid-20th-century Mississippi. These influences aren't a gimmick; the album excels at both transitioning fluidly between blues and black metal ("Beneath the Cool, Calm Soil") and integrating bluesy melodies directly into riffs ("The Blackness Come Creepin' In"). Crestfallen Dusk's blackened blues melodies feel palpably uneasy, which is magnified by the album's use of scales that are nonstandard for both blues and rock ("Burn in Hell," "Our Old, Rotting Cabin"). Even in these harrowing moments, Crestfallen Dusk employs its blues influences to remain groovy and engaging. Crestfallen Dusk isn't a polished effort, and its muffled production and excessive repetition make it a flawed listen. But it's given me a pleasant reminder that black metal can still be as fresh as ever. I'm excited to hear where Crestfallen Dusk goes next.
Ferox's Feral Felons 
Vomit Forth –
Seething Malevolence
This is one ugly puddle on the sidewalk. Vomit Forth's second slab of slammy, hardcore-infused death metal is harsh on every level. Each of the nine proper songs Is a felonious assault, while the production adds insult to injury by hurling on you as you lie insensate on the concrete. A quick spin of opener "Eucharist Intact" should tell you whether this bile-burp is for you. The loudness gets right in your face and says "whassup," with rampant clipping distorting the riffs throughout. The terrible production plays like it has to be intentional, an added layer of confrontational excess. The core of the band's sound is slam served a la Internal Bleeding, but they blend big chunks of hardcore and thrash into this regurgitated stew. The riffs are on point, but Seething Malevolence is mostly a showcase for voKILList Kane Gelaznik, who burps, gurgles, squeals, and barks all over this thing. Vomit Forth have concocted a twenty-nine-minute endurance test—Seething Malevolence has neck-snapping riffs aplenty, but it's also determined to challenge while it entertains. I, for one, was happy to submit to the suffering.
Dolphin Whisperer's Rotted Rescues
Defect Designer – Neanderthal
Our very own Grymm was not kind to Defect Designerߵs 2015 release, Ageing Accelerator, and to his points, this band did not display as cohesive an outing as they've pieced together for this newest burst of grinding, genre-fluid metal, Neanderthal. In a month full of good grind, Defect Designer manages to be a band that breaks the rules in different ways than others—with boundless teched-up trad energy. Sharing DNA with the equally daring Diskord (Defect Designer now contains 66% of Diskord to be exact) should alert you to a little of what you will encounter here: broken guitar tones, tattered screeches, and weird noises—noises that are integrated or focal to songs, though, not just for the sake of noise. In some part, this may be due to the increased reliance on shorter form numbers, which allow special focus on these sonic shenanigans like the real pig squeal that opens "Pigsty" or the Jew harp (I believe) "boing" that opens "Trolls." In tandem with these eccentric explorations, an undeniable and highly tangible energy derived from traditional heavy metal (namely shred) stands out like a stain on a barstool at your favorite venue, particularly on the rollicking solo break of "Luddites" and the heroic exit of "Time, Forward." Despite all their departures, Defect Designer never forgets their focus here: to goose you into a grinding fury and laugh while they do it ("Neanderthal," "Vlad"). Come for the beautifully grotesque Ian Miller cover art, stay for the farting fretless and furious 6-string gymnastics.
Sonum – Visceral Void Entropy
Sonum, hailing from the Northern neck of Italy, falls in line with modern death metal bands who tiptoe the edge of what chunky riffs and scraping melodies can produce—like-minded but not entirely like-sounding to their country mates Ad Nauseam. Unlike that whirlwind of richly organized chaos, Sonum, in the discordantly progressive saunter, keeps one foot in the malaise of early Opeth and the other in the searing lead echoes of late Death. In short, Visceral Void Entropy knows how to hook. At the barbs of Sonumߵs success hangs the stupendous kitwork of… Paul… whose entrancing cymbal play and thunderous tom rolls build the ritualistic framework of highlights on "The Poison We Create" and "Bury My Body Here," often reminding me of a groovy David Gray (Akercocke, Voices). Not to be out-stabbed, guitarists Minkio and Lele (also in Sinatras) inject brooding downtuned, droning refrains into "I Am Destruction" and "Iconoclast," skirting about the overlap of post-grunge dreariness and occult black metal malevolence. One of the two stringsmiths—or both—also put on a beautiful show with classical nylons for the bell-led interludes "The Call" and "Desolation." A lot happens in the 53-minute runtime, but unlike more dissonance-heavy acts, the earthy nature of Sonumߵs riffcraft and bark-forward verses keep me wholly engaged. Originally I had hoped to submit this band to our beloved Rodeö, but, as it turns out, they are signed and I can see why. Either way, I'm happy to give them a much-deserved shout here, as well as a small shout to a scoopy Brit from our very own AMG discord server for dropping this album into my headspace… and Sonum on my bands to watch list.
Kronos' Calamitous Cretins
Ernia – How to Deal with Life and Fail
Ernia put a turtle skeleton on their new record, which is a great way to get my attention. Another great way to get my attention is to be in Wormed, which half of Ernia are. As you might expect given their presentation and pedigree, Ernia's deathgrind is tight, techy and tumultuous. Quirky songs mix that steroidal intensity with a whiff of magical realism. "A Mute Florist" drifts into languid jazz bass after careening through jagged riffing into a tense melody, and just after "This Life is Rotten History" uses a breakdown to pivot into major-key strumming. "The O'Neill Cylinder" follows it up with a brief burst of castanets. There's even a bit of knuckle-dragging hardcore on "Frustration Theory." All the while, Omar I. Sanchez is shrieking his damn lungs out. I regret not making the time to write a full review of How to Deal with Life and Fail, but it's time I just give in and let you know; this one's a winner.
Dear Hollow's Dripping Dregs
Xenoglyph – Spiritfraud
Jesus, look, more space-themed black metal? What's next – 8-bit black metal?? Outsourcing our frostbitten kvlt burning for the stars would be a cardinal sin if Xenoglyph wasn't so much fun. While space-themed acts like Darkspace or Mare Cognitum intersperse ambient passages amid blasting black metal, this anonymous American duo opts more for all of it, all at once on sophomore effort Spiritfraud. Spacy ambiance, industrial flourishes, and symphonic overlays hit you alongside its furious second-wave black metal attack, both crisply indebted to its icy desolation, while pummeling enough to warrant a comparison to Emperor. A distinct psychedelia attacks from above, adding an alien sci-fi presence about it as well in tracks like "Mainframe Equilibrium" and "Iconocide," while the title track resembles a riffier Kataxu. We are not alone, as Oranssi Pazuzu and Mesarthim and Kataxu and everyone and their fuckin' alien dog would like to remind us.
Steel Druhm's Carnivorous Curio
My Sleeping Karma – Atma
I was wholly unfamiliar with German instrumental post-metal/post-rockers My Sleeping Karma when I stumbled onto their sixth album, Atma. What I found was impressive enough to keep me sticking around even though instrumental post-metal is usually not my thing. I didn't even know this was an instrumental album at first and it took about 20 minutes before I gave up hope that someone was going to speak up. And you know what? It didn't matter, as the music itself is so engaging and interesting. The songs on Atma are unhurried and take their sweet time to develop and unfold. Opener "Maya Shakti" is the perfect example – spending 9-plus minutes slowly evolving from simple strummed lines into something more lively and pulsating, like what Kyuss was doing on Welcome to Sky Valley but spacier and more vast. The cosmically cool, restrained guitar work is captivating and time loses meaning as you go with the musical flow. The dichotomy of their style is fascinating. Not much appears to be going on at any given moment on cuts like "Prema," but you'll end up deep in a swirling soundscape and carried away to other worlds. This is very much a mood album, and one I'm not always going to up for, but when I want to change headspaces, My Sleeping Karma has a magic ticket waiting for me.