The middle of April (or the beginning of May, depending on the amount of superfluous bureaucracy this segment must trudge through before its inevitable publication) is upon us, and with that comes yet another opportunity to get our hands, feet, and other appendages dirty in the service of our overburdened filtration system. Newly rebuilt after last month's demolition, the Filter has already taken significant abuse, such is the muck and mess that oozes from every gangrenous orifice of our "esteemed" crew.
Fear not! Our work in these mold-ridden ducts and grates always yields dividends, most often in the form of a shiny and deadly sharp hunk of metal or two. This month's efforts are no different, with each contributor listed below showing and telling of their sweet loot. Behold, and gaze upon the wonder of these moderately-better-than-average chunks that the unwashed masses might sample for two-to-five minutes in passing—if we're lucky!
---
TheKenWord's Molding Mentions
Insane Devotion – Tormento
Fans of Veilburner should take note of Insane Devotion's new album, Tormento, a chilling amalgam comprised of twisted black/death riffs, eerie electronic swells, and countless subversive hooks. Opening couplet "Tormentas Passadas" and "A Arte Q Me Vinga" showcases the fluid songwriting chops possessed by this Brazilian duo, ripping sick riff after sick riff and backed by addicting Metroid-esque synth runs. While the drums are programmed and sound fairly artificial, there's no denying that the patterns and fills selected by these Brazil nuts always stay right in the pocket, never exploring realms too remote for humans to approach. As a whole, Tormento is mildly dissonant and challenging but, much like Veilburner's latest works, provides further evidence that such fare can still be bouncy and fun as hell ("Tempo Sem Fim"). It's good to see more bands embracing that philosophy in songwriting, and I look forward to hearing what Insane Devotion do with it going forward.
Navalm – Abnormalities and Deviations
Abnormalities and Devotions caught my attention with this interesting artwork, abstract in nature but overflowing with contrasting textures and varying stroke techniques. Whether created digitally or otherwise, I assumed that such artwork evidenced music of at least equal intrigue, and I was correct! Ukrainian1 death metal collective Navalm deal in filthy, nasty death with a lightly progressive lean, reminiscent of Immolation and Monstrosity. Riffs abound ("Deliver Me from Evil" and "Lightbringer"), solos are righteous and numerous ("Subdimensional Metaphysical Hornets"), drums are tight and unpredictable ("Hell of Neglect"), but the real showstopper are the voKILLS. Whoever delivers these ungodly utterances on Navalm's ninth album deserves an award, for not only are his belches absolutely monstrous, but they are remarkably comprehensible ("Deadly Doubts"). There's a lot to love about Abnormalities and Deviations, and if it indeed represents this prolific act's best work to date, then I hope it also represents Navalm on the rise.
Iomair – Fishing for an Apparition
Wilderun, Blind the Huntsmen, Lör. These are but a few modern progressive, folk-tinged metal bands that earned the favor of the metal community in the last decade. Enter newcomer Iomair, a prog/folk metal octet based out of Ontario. Pulling from all sorts of musical pools, including seafaring folk (SotY contender "Last Buccaneers of the Scarborough Inn"), smooth jazz ("The Return of the Phoenix" and "Retake Control"), country ("Gallows"), punk ("Gallows" again), and swirling all manner of metal throughout, Fishing for an Apparition is an unhinged, uninhibited and joyous romp. Bonus points for brevity enhance the overall appeal of the record. Totaling thirty-six minutes, Iomair's sophomore effort crams as many entertaining ideas into its short lifespan as do the aforementioned bands with their hour-long-or-more epics. While at times Fishing for an Apparition comes off a bit disjointed (the primary reason why this just barely missed getting the TYMHM treatment from me), there's no denying that Iomair know exactly what they're doing. I'm very excited to see where they take their sound next.
Ferox's Fetid Fineries
Night Eyez – Night Eyez
Metal-adjacent "somnambulic doomsters" Vanishing Kids earned a 4.0 from inveterate overrater Steel Druhm his own hairy self.2 That qualifies this side project from Kids member Jason Hartman as, oh let's say, metal-adjacent-adjacent. Night Eyez may be a distant cousin to this blog's raison d'etre, but the blissed-out project more than earns twenty-nine minutes of your time. These "dark electro" stylings unfold over seven languid tracks that evoke a moonlight drive across a desert city, with Hartman's trippy lead guitars keeping the songs connected to a rock tradition. The post-punk riffing on "Sunset" and "Blessed" recalls The Cure, although Night Eyez shies away from the vulnerability that is Robert Smith's stock-in-trade. The singer seems to be more observer than participant, keeping events at a safe remove throughout. This music may be the soundtrack to a night of insomnia, or it may be the soundtrack to a barely-remembered dream, but either way these night-time highways are worth traveling.
Maddog's Buried Bones
Hellfrost and Fire – Fire, Frost and Hell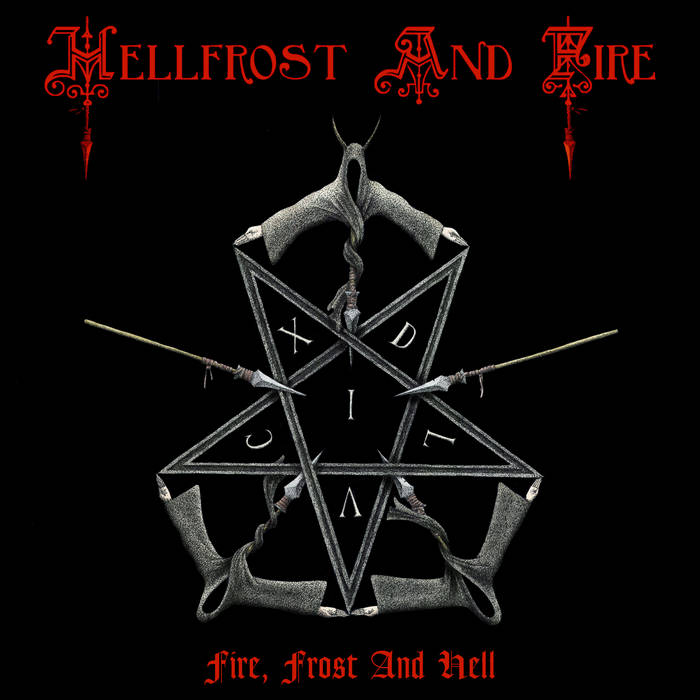 Concocted from a potent mix of old-school death metal and Dyscarnate with a dash of Sepultura, Hellfrost and Fire is a merciless monster. Its mission is to turn your innards into spaghetti and sell your skeleton for parts. Fire, Frost and Hell does just that. The band's aptly-titled debut is an onslaught of massive old-school death metal riffs, with just the right amount of chuggy hardcore influences to make the album feel even more kick-ass. Founding frontman Dave Ingram has had a prolific career as a reverend in the Church of Satan (yes, really) and a former vocalist for Bolt Thrower, and brings this evil energy to his performance. The album's 41 minutes feel a bit stretched, with the middle of the album dragging after a powerful start. Still, Fire, Frost and Hell is up there with Necrophagous on my list of the most irresistibly fun extreme metal albums of 2022 so far. It's absolutely worth a listen, and I can guarantee you'll be back for more.
Chthonic Cult – Become Seekers for Death
Become Seekers for Death is blackened death metal done right. Chthonic Cult's recipe starts with a rock-solid base of old-school death metal riffs and solos that jam hard throughout ("On the Wings of Drought," "The Hunt of the Light-Bearer"). Their special ingredient is a tasteful blackened edge that makes the album feel vaguely uneasy ("Ironclad Nemesis," "In the Seventh Hour"). The finishing touch is the tiniest pinch of hardcore-influenced riffs ("When the Ancients Speak"). The resulting feast is reminiscent of the recent Descent album, dishing out a distinctive combination of unabashed fun, vitriol, and visceral discomfort as only blackened death metal can. But Chthonic Cult's unwavering allegiance to vintage death metal helps them stand out; indeed, Become Seekers for Death often sounds more like Autopsy than like Necrophobic. Chthonic Cult struggles to maintain this bite throughout, particularly when they stretch slower riffs into longer songs. Still, Become Seekers for Death is an energetic record that won't disappoint.
Nostalghia – Olvido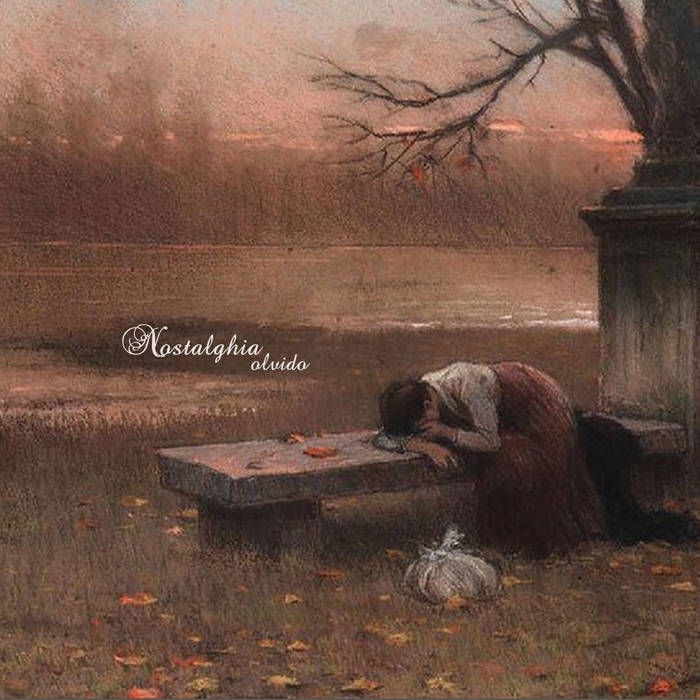 Y'all are a despicable rabble, but sometimes you have good ideas. I owe this find to Pentakilljoy in the comments. Olvido is the fourth album from Nostalghia, the prolific post-black metal project of Mexico's Alex Becerra. Fear not; Olvido not only shimmers ethereally, but also riffs, building an uplifting atmosphere using a backbone of engaging melodies. What differentiates Olvido is the variety of ideas that it weaves together seamlessly, allowing it to feel rich and dynamic. The album echoes the glimmering guitarwork of Alcest's Kodama ("Abandon," "Restless"), a less annoying version of the upbeat blackgaze of Deafheaven's Sunbather ("Deliverance"), and the evocative melodies of Buckethead's Colma ("Éphémère"). And that's not even mentioning the crushing post-black metal riffs throughout, or the beautiful clarinets that embellish "Abandon" and "Sólo un Poco Aquí." Listening to Olvido has a palpable emotional impact, bringing me hope on every listen. If that isn't enough, Olvido's artwork is among the most beautiful I've seen this year, and the album is NYP on Bandcamp. Keep an eye out for Nostalghia's next full-length Au Milieu de L'hiver this August. (I wasn't kidding about "prolific.")
Thus Spoke ov Treacherous Treats
Absent in Body – Plague God
Absent in Body are a supergroup of a particularly sinister and brooding kind. Colin H. Van Eeckhout and Mathieu J. Vandekerckhove of Amenra; Neurosis' Scott Kelly; and Sepultura's Iggor Cavalera each bring the darkest, most haunting aspects of their respective projects. Plague God is a blunt, succinct, and pretty damn heavy package. In equal measure, it caves in your skull ("Sarin"), dangles you in the air over a hopeless chasm of emptiness ("In Spirit in Spite," "The Acres/The Ache"), and envelops with a black velvet oppression ("The Half Rising Man"). The music alternates between gritty metallic groove and anxiety-inducing crawl, Scott and Colin also sharing vocal duties to emphasize a fearful combination of dread and despair. Absent in Body they may be, but this album's presence is still an ominous dark shadow I can't quite look away from.
Steel Druhm's Rusty Iron and Chipped Stoneware
Kingcrown – Wake Up Call
French trad-metal warriors Kingcrown hit the scene back in 2019 with their A Perfect World debut. Powered by the musical talents of the semi-legendary Amore brothers (both hailing from long-running French metal mainstays, Nightmare), they delivered a punchy metal-fest with similarities to Primal Fear and classic Vicious Rumors. Wake Up Call finds them in much the same place crafting burly metal anthems sure to appeal to those with one foot in the 80s. Joe Amore's leather-lunged vocal attack is as good as always, sitting someplace between Ralf Scheepers and Apollo Papathanasio with bits of Dio and Russell Allen sprinkled over the top like angry mummy dust. The songwriting sometimes reminds of Firewind's fare – "Lost Foreigner" sounds exactly like something off Allegiance and it's one of my favorite tunes of 2022 so far. Their straightforward, balls adjacent to the wall delivery is also reminiscent of Diviner, especially on "The End of the World" and "To the Sky and Back." Wake Up Call doesn't offer anything new but it does kick your arse out of bed with 40 minutes of quality metal with high replayability and better than average hookitude. Wake the fook up and hear these guys.
GardensTale's Gruesome Gifts
Oddland – Vermillion
Finnish prog band Oddland was among the first bands I reviewed on AMG. Origin was also the first album I awarded a 2.0, as it was a major letdown compared to their exceedingly solid debut. Nonetheless, I was quite stoked to see whether the band managed to leave behind their sophomore slump. And then life happened, and the full review never manifested. Which it should have, because Vermillion is a huge step forward for the band. Everything that didn't work before has been measurably improved. The djent syncopation is more confined to the bass and as such, much less overpowering, leaving room for more dynamic and progressive songwriting. The excellent baritone vocals explore their range to their fullest, both in power and pitch, and include layered styles and occasional growls. The usage of Middle-Eastern scales and hand percussion gives tasteful flavoring and the production is solid with a good mix. Wrapping up within 40 minutes, it doesn't overstay its welcome either, and it lures me right back into its delicious Opeth meets Pain of Salvation meets MENA concoction. Vermillion is a fine return to form.
Dolphin Whisperer's Subaqueous Suggestions
PreHistoric Animals – The Magical Mystery Machine Chapter Two
I've been patiently awaiting this second installment from Sweden's little-known pop-prog professors. In the weirdness that was the year of 2020, The Magical Mystery Machine Chapter One served bouncy rhythms, buttery vocal hooks, and emotionally-driven guitar leads–all tied to a fictional journey to save the world from itself–a journey that felt simultaneously real and romantic. Equal parts funky, playful, and uplifting, PreHistoric Animals delivers a Chapter Two that continues the story against melodies that feel even more driven by the undeniably pleasing croons of Stefan Altzar. While the first section of this album feels a little more exposition-fueled than its predecessor (this is prog, after all), one huge vocal sweep toward the end of "I Am the Chosen One (And I Like It)" signals the real take-off. Twangy guitar jangles like the chorus riff from "Ghostfires" and cosmic keyboard cuts like the intro of "2100 (New Year's Eve)" help solidify the unique sound these Swedes have to offer. Rest assured, Altzar and his guitar swinging buddy Daniel Madgic (ex-Pain of Salvation) still make time to dazzle us with precise fretboard wizardry at tasteful moments. If you, as I do, have an Anubis Gate-sized hole in your heart, do yourself a favor and give these spacey Scandinavians a chance!
Blind Girls – The Weight of Everything
Blind Girls plays an engaging blend of dreamy skramz colliding with mathcore on week two of skipped meds. Primary bleeding heart and tattered throat Sharni Brouwer has put shaky pen to tear-stained paper to construct 11 tracks detailing loss and the recurring trauma experiences that follow. The list of sad scenes includes (but is not limited to) fragile moments such as walking into a room where each square inch has a memory ("The Shape of Harm") or recalling the day of loss ("Bright Sadness")—this album isn't for the good times. At the strongest points, Brouwer's moody mantras ring against soundscapes that resemble shoegaze through a paper shredder ("Wish", "Bright Sadness"). Blind Girls also knows how to let the chaos flow against the stream of emotion like on math-leaning bangers like "Robots Can't Tick Boxes" or "Dissociating While Driving". In styles like this, individual songs can be difficult to discern, but Blind Girls makes their vision clear highlighting key emotional moments with memorable leads and melodies ("Bright Sadness," "Memorial"). The confessional lyrics contain a mammoth weight, though, running only 21 minutes, you can be in-and-out of this cry session in less than the time it takes to think about calling your therapist. Please do still, if you have that resource available.
Twelve's Tempting Thrifts
Moonlight Haze – Animus
I was originally slated to offer a full review of the third full-length release from Moonlight Haze, but alas. For whatever reason, Dear Hollow also wasn't up to the task—I suppose the bombastic symphonic metal fun these Italians pedal was too much for his dear heart to handle. It's too bad, really, because Animus is a big production of in-your-face orchestral metal that will appeal strongly to fans of Nightwish, Epica, and about a dozen other bands who took full advantage of how much we all liked our metal cheesy back in the day. From the first few seconds of opener "The Nothing," you know what you're getting; this is poppy, cheesy fun, with an epic flair and a strong focus on Chiara Tricarico's singing. "Never Say Never" may have hokey lyrics, but it's fun to sing along anyway, the vocal melodies a big step up from Lunaris. Speaking of which, Moonlight Haze dials back on the thrash influence from their last output, focusing instead on larger-than-life numbers like "We'll Be Free." If you're a fan of the style, you already know what to expect from here, but it's good fun anyway, and well worth the time.
Keep my name out your mouth! – Steel ↩