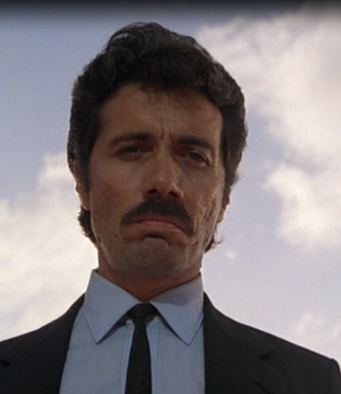 I don't really have any clever observations about the past year in metal. A few of my AMG cohorts have griped that 2013's release schedule was somewhat lacking, but I didn't have that problem at all. There may have been fewer good albums quantity-wise (I wasn't counting), but the ones that were good were REALLY fucking good.
Yes, about half this list is made up of "comeback" albums. I don't know what they're putting in the water that's suddenly motivating all these old fucks to make great records again, but I'm not complaining. However, there's a few newer bands on this list that managed to come up with something original and non-shitty, and I applaud them as well. Oh, and if your favorite band didn't make this list, it's because I found 11 other albums that I thought were better. Or it's because I don't like you. Anyways, enjoy.
(ish):  Philip H. Anselmo and the Illegals // Walk Through Exits Only — If you thought that the Pantera/Down/Superjoint frontman had mellowed with age, think again. On Exits Only, Philip Anselmo leaps out of his rocking chair and orders all new-school metal vocalists to get the fuck off his lawn. This is the man's angriest vocal delivery since the Trendkill days, easily. The music itself — an off-kilter blend of Soilent Green, Agnostic Front, and Pantera's heaviest moments — is hard to digest, but it makes sense when you consider the source.
#10. In Solitude // Sister — As Mr. Druhm mentioned in his review, In Solitude has transitioned from great-but-unoriginal Mercyful Fate worship  into something far more sinister. Proto-metal riffs somehow survive within an '80s goth atmosphere, surrounded by songs that are both evil and insanely catchy (despite possibly not being in English). In Solitude's first two albums, good as they are, sound like they were made by young kids that stayed home and played D&D a lot. Sister sounds like the work of people who have finally grown up, gotten laid, and possibly even caught a venereal disease — and those are my kind of people.
#9. Sleepers Awake // Transcension — Who, you ask? I happened to randomly catch this Ohio quartet playing in a small club earlier this year. I was thoroughly impressed by their prog-metal ways, and bought their CD as soon as they finished their set. Transcension is refined and complex, like an American version of Opeth, or perhaps Mastodon without the bad vocals and redneck/douchebag factor. Solid songwriting and excellent musicianship all around.
#8. Exhumed // Necrocracy — Exhumed is on a roll these days, having cranked out two excellent, no-bullshit death metal albums in as many years. While slightly slower-paced and more groove-oriented than it's predecessor, Necrocracy still kicks a ton of ass. A well-written, heavy, and most importantly fun way to spend 45 minutes of your life.
#7. Sahg // Delusions of Grandeur — A last-minute addition to my list, this Norwegian supergroup's newest album blew me away. Delusions is full-on prog in the '70s sense of the word, crammed with lengthy epics and dynamic, layered songs. The old-school (as in "the band actually played live in a room together") production certainly doesn't hurt either.
#6. Queens of the Stone Age // …Like Clockwork — Josh Homme and co. return, older and wiser. The Queens weirdness you know and love is still there, albeit with a more serious, almost melancholy vibe. There's still some fun to be had (see "My God Is the Sun," "Smooth Sailing"), but Homme truly shines on the ballad-type songs here, with an emotional depth and sincerity rarely displayed before.
#5. Queensrÿche // Queensrÿche — Bësides providing üs with some highly entertaining legäl drämä, Queensrÿche also röared back from career purgatory with their best album in nearly 20 years. New guy Tö∂∂ Lä Törre sings his balls off, and the rëmaïning members pröve that they're more than capable of writing songs without a certain ex-lëäd singër. This album has its shäre öf flaws — it's a mere 35 minütes löng [uses unnecessary diacritical marks in the näme – ÅMG], and the mastering sounds like äss — but it's still a müst-listen for anyone whö missed vintäge Quëënsrÿche.
#4. Fates Warning // Darkness in a Different Light — On their first record in 9 years, Fates Warning returns with a heavier, more modern take on their trademark sound. It's not quite as earth-shatteringly awesome as the Arch/Matheos record from a couple years back, but it's in a similar vein musically. The rhythmic variations and interplay between the musicians is incredible, and yet the songs themselves are well-written and memorable. In short, Darkness is good shit, and I've had it in heavy rotation since it came out.
#3. Vhöl // Vhöl — The latest project to emerge from San Francisco's Ludicra/Hammers of Misfortune/Slough Feg axis of evil, Vhöl takes an even more old-school approach than any of its parent bands. Witness the assault of sideways Motorhead riffs and crusty proto-metal production, topped off by the insane shrieking of Mike Scheidt (YOB). Oh FYI, the track "Arising" contains my 2013 Riff o' the Year™.
#2. Voivod // Target Earth — Another comeback record, and I'm surprised this one even exists. How the hell was Voivod going to carry on after the death of guitarist/musical leader Denis "Piggy" D'Amour? Well, they brought back original bassist Blacky, and then recruited guitarist Dan Mongrain (ex-Martyr), who somehow channels the spirit of Piggy circa 1988. The result is the heaviest, most progressive, and best record Voivod has made since The Outer Limits.
#1. Carcass // Surgical Steel — Big surprise, right? There's really nothing left to say about Surgical Steel that hasn't already been said. Great songs, great riffs, in a style that finds the sweet spot between Heartwork and Necroticism — with a few surprises along the way. I'm still cranking this beast months later, with zero complaints (except maybe the Andy Sneap production). This is probably the greatest "comeback" record the metal genre has ever seen.
Honorable Mentions (in no particular order):
Black Sabbath // 13
Czar // No One Is Alone if No One Is Alive
Alice in Chains // The Devil Put Dinosaurs Here
Converge // All We Love, We Leave Behind [Actually 2012, but whatevs, yo… – AMG] 
Arsis // Unwelcome